XAYA Electrum Wallet Beta Release Includes Mobile Android Wallet
The XAYA Electrum wallet is now available in beta form! Electrum (not to be confused with Electron) has been around for a long time and is widely considered one of the best and most secure wallets available.
This new fork of the Electrum wallet to Xaya will give CHI users another, and excellent, option to store, send, and receive coins.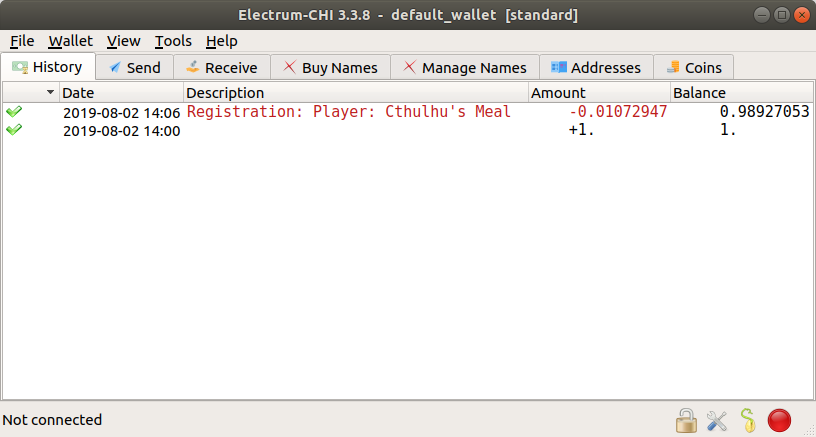 Why is it good?
Many reasons — Electrum is an SPV wallet. You do not need to be a full node so you can start using it as soon as you run it.
Advantages:
Uses little space
Instantly ready
Keep your private keys
Recover from seed words
Cross platform — Android / Windows / Linux / Mac
Same wallet, multiple devices just using your seed phrase
Why is it good for Xaya?
This allows gamers to be able to play instantly without syncing the chain and also just have easier access to their CHI across multiple devices. The Electrum daemon can also be invoked by each game so it's invisible to the user so that mainstream gamers only need to run the game. To be safe and secure, users should write down their seed phrase and store it in a safe place.
Old hands that are familiar with the Bitcoin Electrum wallet will feel right at home and newcomers will enjoy the user friendliness of the wallet. Notably, the Xaya Electrum wallet adds in controls for users to buy and administer their Xaya names.
Xaya names are a kind of non-fungible token (NFT) and loosely modeled after the first cryptocurrency NFTs in Namecoin. Xaya names are used to create and control video games on the blockchain using the "g/" namespace, and are used for player accounts in video games or dapps using the "p/" namespace.
Electrum is easy to use but also includes many highly advanced features for advanced users. This includes multisig wallets and cold storage.
The Xaya Electrum Beta wallet is available to download on the Xaya website for Windows, Android and Linux. A Mac build is coming soon. You can download it here:
https://xaya.io/wallet_downloads-2/
Want to know more about the benefits of blockchain for gaming?
Visit https://xaya.io
Join the conversation:
https://taurion.io/
https://twitter.com/XAYA_tech
https://www.facebook.com/XAYAtech/
https://discord.gg/d3KwbWu